A refresh/update/redesign for a regional retailer's holiday wishlist app geared towards kids. This update was to include many new features geared at making the holidays a little more accessible for shoppers while increasing trackable ROI on the client side. Many features were pushing the limits of what was possible on the client's side and leaned into blossoming partnerships with other vendors.

Responsibilities
---
UX/UI Design
Animation
Prototype

Exploring the toy galaxy.

Diving into brand galaxies.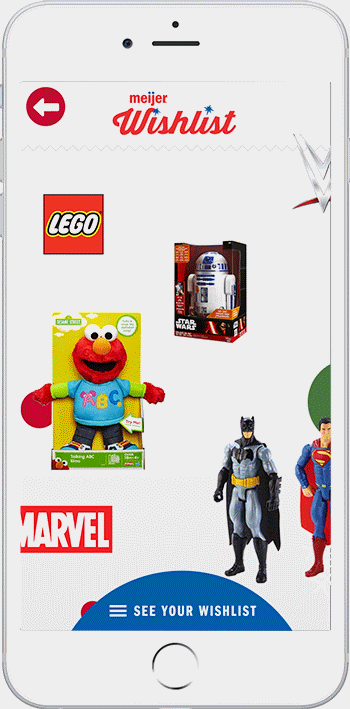 This feture facilitated group purchases of big-ticket items by way of in-app or in-store contribution. Anything to lower the barrier for the customer and brighten a kid's holiday.
When the contributions met the price of the item it would be marked as "claimed". If the item wasn't fully covered it could be "cashed out" as a gift card towards the item.